I've been into fish/animals all of my life, although I didn't seriously get into fish until I was a 19 or so. From 19 - 24 I had reef tanks, until my fish sitter nixed that for me while I was away on vacation... grrr
That upset me quite a bit & I was out of the hobby for a few years. A little over a year ago I got the bug again... this time I went the route of planted tanks. It started with a shrimp tank, then a dwarf puffer/CPO tank,(keep an eye out for these, Ill post em eventually, lol) .... now it's quickly being taken over by the Betta Bug. I've been bitten & it's bad, lol
I've always loved bettas, theyre full of personality and come in all sorta of amazing colors & shapes! Recently I think I have become obsessed!!!!!
Now to meet my Bettas!
1st we have Klaus, my Halfmoon Marble (he doesn't show much color variety/pattern but IS from 2 marbled parents so if nothing else carries the gene) who came from 2 Thailand imported parents. He is about 4 months old and resides in his own filtered, heated and planted 2 gallon tank.
He is quite the character, he LOVES people and does "shimmie" for me when he see's me !!!
He is also getting good entertainment from the Sorority "next door" but I'll get to that farther down.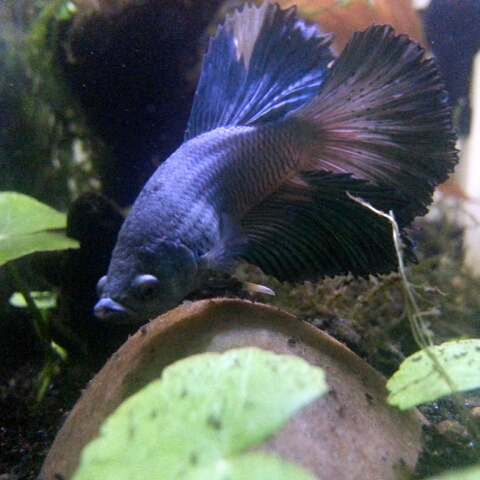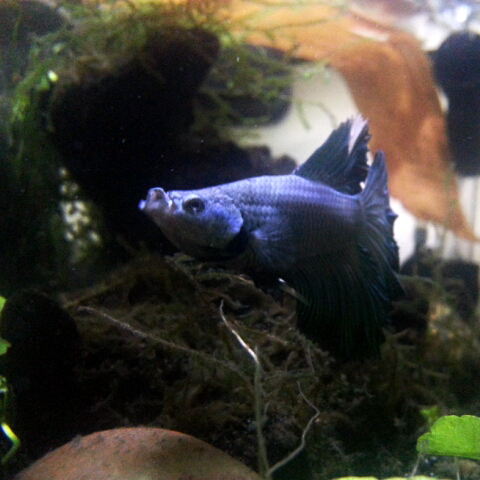 I mentioned a Sorority next door... yes! I have 4 girls atm in a planted 10g. I am wanting to upgrade them to something bigger, awaiting the next Petco $1 per gallon sale. Gotta love those.
I have had them all housed together for a bit over a 2 weeks now. There was a lil sparring in the beginning, but only 2 got nipped. They are looking great and getting along wonderfully
Here you can see all 4, sorta, ... they're bonding over hunting down my pesky pond snails. Go girlies go! Eat em all, lol.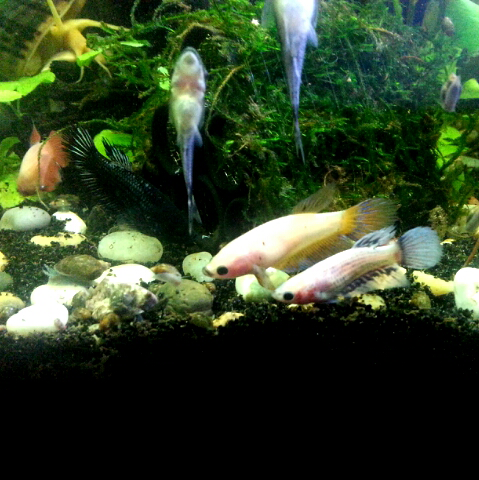 Here is my Black Orchid Crowntail, I've dubbed her Black Betty, she is the 1st of the girls I got. She sorta runs things atm, & the others know it and generally give her her space.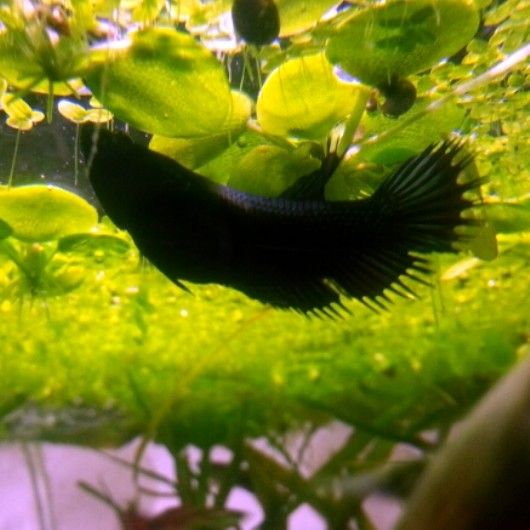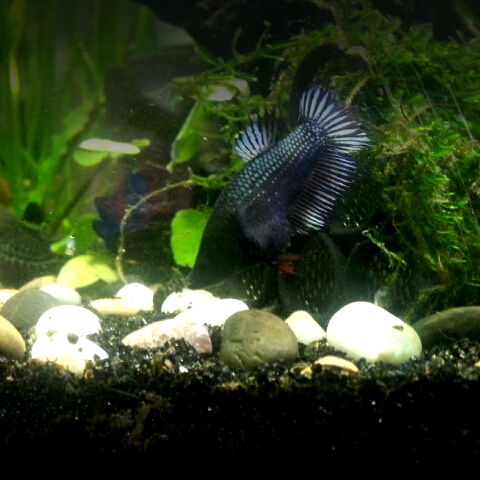 Her & the golden finned Halfmoon shown below are the only two who endured any nips when 1st getting to know eachother. Both are healing up amazingly though.
Now for the golden girl! Not digging her top line so much, since Ive been reading on what "good form" is in a betta. So since she is a bit oddly shaped I've been calling her Crutch, haha
(don't mind any specs or anything you may see in these pics, I have a horrid habit of taking photos right after I feed)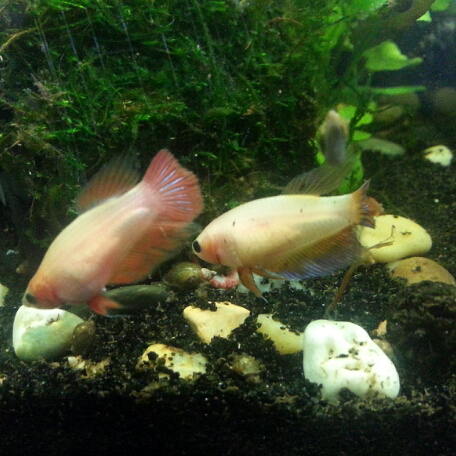 Now onto a unique lil beauty! Unsure what her coloring would be called, she has dark purple specs and orange & purple fins. She is a halfmoon named Misfit.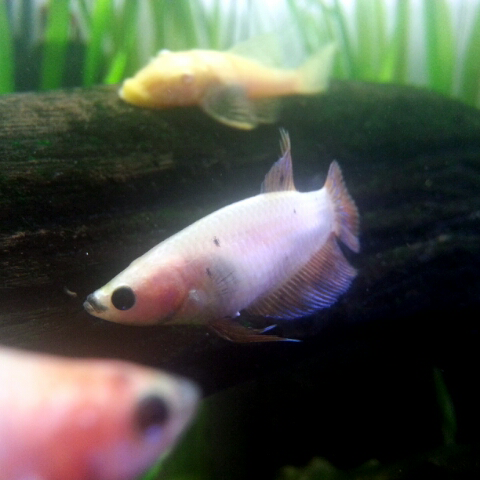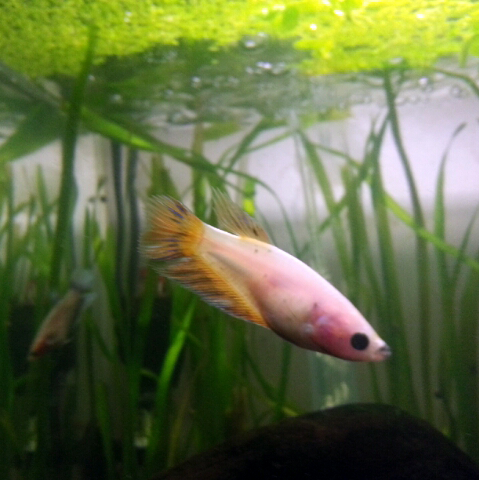 Last, but def not least my grizzled butterfly halfmoon girlie! Currently the smallest, but that does NOT hold her back, hehe. Think Im'a call this one Rucca (big Sublime fan)
Now that you've seen my current bettas time to show off my new ones being shipped out today!
A halfmoon plakat marble pair from Thailand parents. The male will be going in to his own planted 2 gallon & the female will be carefully introduced into my Sorority.
I go on vacation the end of May & when I return in June I am going to attempt my 1st spawn! I've been reading up like mad, on all the different methods, feeding fry ect ect. Been reading all the spawn logs & such I can find, super stoked for this endevour!
I also have this amazing stock coming. Both have show potential! Super excited! Just hoping all goes well!
The male..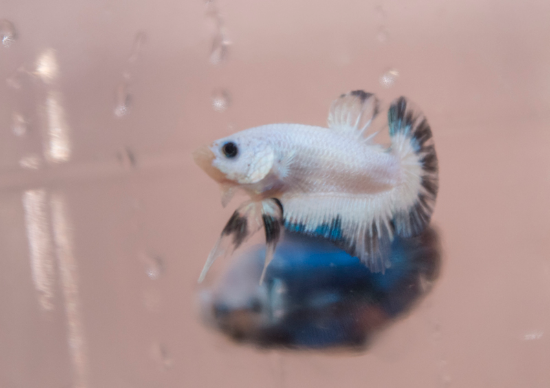 And the female..
Another 3 girls might be arriving in a few weeks, possibly a Double Tail, an Irredecent HM marble & a sister to my boy Klaus shown above.
Yep, bit by the bug HARDCORE!
Anywho.. that's my bettas! Any other betta fanatics here? Anyone local breed or show?